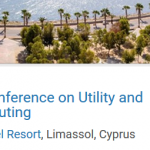 It will be the
"FELIX day"
at 8
th
 IEEE/ACM International Conference on Utility and Cloud Computing (
UCC15)
on Thursday 10th of December 2015 in Limassol, Cyprus. During the 2nd International Workshop on Trust in Cloud Computing at 11:00 Umar Toseef (EICT, Germany) will present paper
Authentication and Authorization in FELIX
. During poster and demo...
Read More »
---